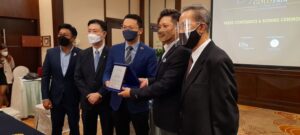 Date: 19 – 21 August 2022
Location: Setia SPICE Convention Centre, Penang
In conjunction with the signing ceremony of the Penang Signature Gold & Jewellery Fair (PSG) 2022, a RM300,000 solid gold handbag was the highlight of the occasion.
The project initiated by Elite Expo Sdn Bhd is being organised in collaboration with the Penang Goldsmith & Jewellers Association on Aug 19 to 21, 2022 at the Spice Convention Centre.
On hand to witness the signing ceremony was Penang State Exco for Tourism and Creative Economy, Yeoh Soon Hin at the JEN Penang Georgetown By Shangri-La.
Also present were the Chief Executive Officer of Elite Expo Sdn Bhd, Datuk Johnson Lim, chairman of Penang Goldsmith & Jewellers Association, George Lo Siew Cheong, Vice President of Federation of Goldsmiths and Jewellers Association of Malaysia, Ivan Chee and their advisor Dato Chan Wee Wa.
"With 80% of the country's gold being manufactured in Penang, the state is a vital player in the country.
"As such we are glad to collaborate with one of the oldest associations in the country to host this expo.
"The expo will also be a perfect venue for customers, manufacturers and investors to meet up in person after such a long time due to the lockdown," said Datuk Johnson.
Meanwhile, George Lo added that the collaboration with Elite Expo will be for five years.
"The gold and jewellery sector has been an important contributor to the state's economy. We hope to promote our products to the local and international markets," he added.
Yeoh also congratulated the association for being the frontrunner in the gold market and a leading gold trading hub.
"This expo will be in tandem with the economic recovery of the state and various sectors related to it," added Yeoh.
The expo will showcase jewellery like bracelets, bangles, brooch, necklace, rings, earrings, gold coins and gold bars.